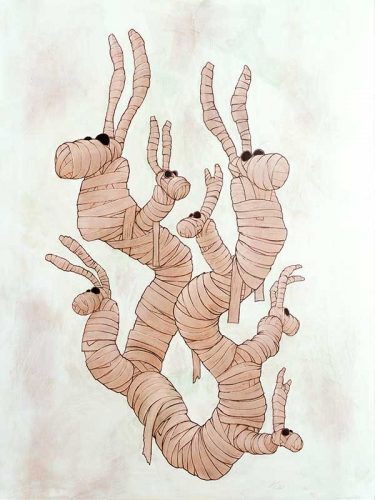 The Post-life herd souls
The herd soul is known to be strong even so strong that it is suspected to manifest even afterlife. Communities and beliefs can be found along the lines of the issue. Unfortunately, there is no scientific evidence, as many empirical scholars have stuck in its way. The few who are said to have returned have told nothing but their own experiences of some light. Post-life herd soul research has not ever made significant progress.
2021, 90 x 120 cm, Canvas, mixed media
Elämänjälkeinen laumasielusuus
Laumasielusuuden tunnetaan olevan vahvaa jopa niin vahvaa että sitä epäillään ilmentyvän myös elämän jälkeen. Asian tiimoilta löytyy yhteisöjä ja uskomuksia. Tieteellisiä todisteita ei valittevasti ole, koska monet empiiriset tutkijat ovat jääneet sille tielleen. Ne muutamat  joiden väitetään palanneen eivät ole kertoneet kuin omista kokemuksistaan jostain valosta. Elämän jälkeinen laumasielusuuden tutkimus ei ole edennyt milloinkaan mainittavasti.