Welcome to my web realm of paintings and illustrations.
My main focus is on mystic forest creatures. Wilderness, as it is cruel, weird, and beautiful, gives me inspiration. When I started sculpting Saimaa moose (Saimaa is a huge lake district in Finland and this moose is totally fictional) and painting them winter fur and summer fur I was on my way also to discover creatures in the undergrowth. And I found a new world! Under mushrooms and leaves was life. Those hares and little predators melt my heart. I love to paint them.
I have to introduce also paintings of Grumpymen Seppo's. Seppo stuff is about serious angry men. These ridiculous characters are like mirrors to some people.
Tough Soul paintings come from loving proper fuel like coffee and piston engines.
– Harri
.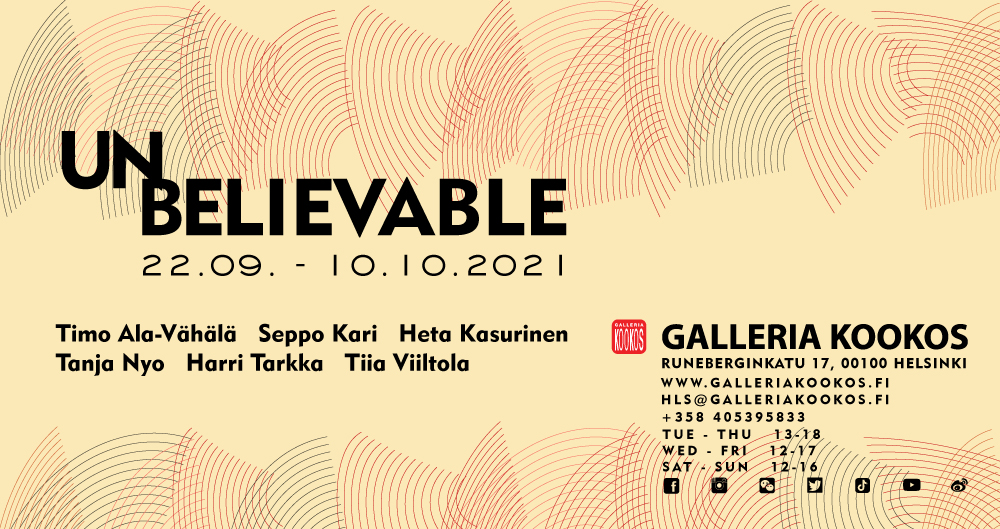 Galleria Kookos 22.09. – 10.10. 2021
UNBELIEVABLE
Elämä on muutenkin ihmeellistä, mutta taiteessa todellisuutta voi venyttää ja yhdistellä rajoittamattomasti.
Tietotekniikan ja eri kulttuurien kasvaneen vuorovaikutuksen antamat mahdollisuudet näkyvät myös kaikilla
luovilla aloilla ja vaikuttavat tulkintaamme todellisuudesta.
Galleria Kookoksen Unbelievable-näyttelyssä kaikki on mahdollista ja saamme yllättyä aina uudelleen –
eläköön ihmeellinen taide!
*****
Life is wonderful as it is, but in art reality may be stretched and combined unlimitedly.
The opportunities made possible by the increased interaction between information technology and different
cultures are also visible in all creative areas and influencing our interpretation of reality.
In the Unbelievable-exhibition of Galleria Kookos all is possible and we may always be surprised again –
thank's to miraculous art!
Timo Ala-Vähälä
Seppo Kari
Heta Kasurinen
Tanja Nyo
Harri Tarkka
Tiia Viiltola
Tervetuloa ! Welcome!
Galleria Kookos
Runeberginkatu 17, 00100, Helsinki, Finland
www.galleriakookos.fi
hls@galleriakookos.fi facebook:@galleriakookos
Instagram: @galleriakookos
Opening hours: Tue – Thu 13-18, Wed – Fri 12-17, Sat – Sun 12-16
Curator Mari Blomroos-Heininen