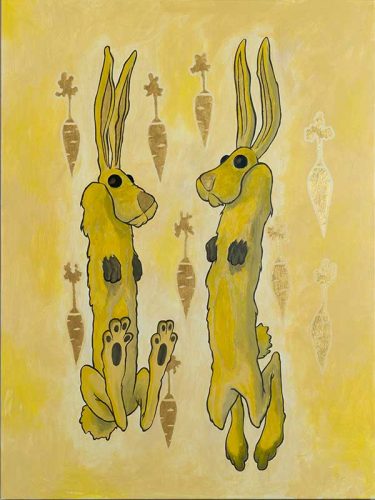 The Golden Carrots
Tax included.
One's stick can be another's carrot. Golden carrots are a metaphor for what we want or would like to achieve. As a mammon, a power, or even an ideology that may not open up to others, you think it's worth achieving. Is it? These two crazy yellow rabbits question your golden carrots.
2021, 90x120cm, canvas, acrylics
Kultaiset porkkanat
Toisen keppi voi olla toisen porkkana. Kultaiset porkkanat on metafora sille mitä haluamme tai haluaisimme saavutettavan. Mammona, valta tai ideologia joka ei välttämättä avaudu muille on omasta mielestäsi saavuttamisen arvoinen. Onko? Nämä kaksi hullua keltaista jänistä kyseenalaistaa kultaiset porkkanasi.