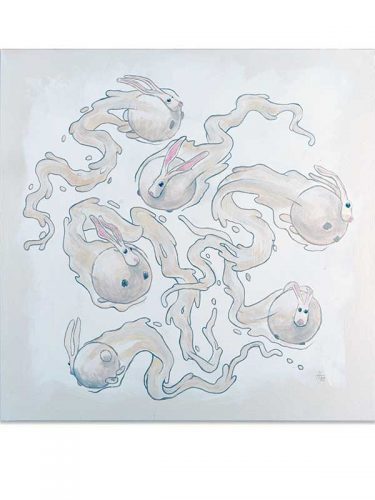 John won
"Juhani won" painting based on Aleksis Kivi "seven brothers" book. Juhani is the eldest of the brothers. Is a bit of wonder because his charter is the most stubborn and slow-learning. I hope I've caught other brothers hurry and fuzzy to see the world.
2021, 100 x 100 cm, Canvas, mixed media
Juhani voitti
"Juhani voitti" maalaus perustuu seitsemään veljekseen. Aika mielenkiintoista että Juhani tuli ensimmäisenä veljeksistä maailmaan. Juhanin hahmo kun oli hidas oppimaan. Ehkä äkkipikaisuus oli avain voittoon muista veljeksistä. Toivottavasti olen saanut kuvattua muiden veljesten kiireen ja meuhkaamisen siitä että jotain tarttis tapahtua jossain ja jotenkin. Näillä jannuilla vauhti korjaa virheet.